When searching for a chemical resistant rubber...
The most chemical resistant elastomers for your application will generally be in the class of fluorocarbon rubbers. Several characteristics of fluorocarbon rubber tend to impart the characteristics necessary for chemical resistance, specifically,
the ratio of fluorine to hydrogen,
the inherent strength of the carbon-fluorine bond,
the absence of carbon bond unsaturation, and
the steric hindrance associated with fluorinated structures.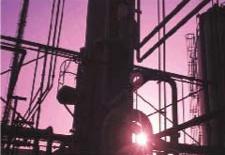 As a general rule, the higher the fluorine content, the broader the chemical resistance. However, there are exceptions to this rule that can be attributable to the solubility parameter of a given reagent and the elastomer designated to seal the reagent. Consideration should also be given to the curative employed within the fluorocarbon rubber.
The second rule of thumb is that the higher the fluorine content, the more expensive the polymer will be. But again, exceptions exist. For instance, a Type 2 FKM (such as Viton® B) possesses a higher Fluorine content than an Aflas® FEPM, yet the FKM costs less. Generally speaking, FKMs will be the least expensive fluorocarbon elastomer, followed by FEPM, with the most expensive being FFKM.
Good background information on Fluorocarbon Elastomers can be found in our Technical Papers Online page. For information on base resistance you may want to visit our statement about BREs. Lastly, there are many instances where a high quality hydrocarbon elastomer (EPDM, nitrile, etc) may be suitable for particular solvents or fluids. If in doubt, Contact Us!
Learn more about Seals Eastern's high performance materials:
For a list of other high quality seal formulations offered by Seals Eastern visit our standard compounds.
Premium Quality Seals...
For a Cleaner, Safer, More Reliable World.TM