Maximize the service life of your Autoclave door seal by using 7182DTM AFLAS® from Seals Eastern
You should be getting years of leak-free service from your autoclave and sterilizer door seals and gaskets.
However, your sterilizer and autoclave door seals need to be manufactured from the right material, such as 7182DTM AFLAS. 7182D is not an FKM rubber like VitonTM or other competing FKM's. Its unique molecular structure makes it ideal for use in steam sterilizers and its ability to resist hydrogen peroxide and ozone makes it ideal for long term use in low temperature sterilizers. Autoclave and sterilizer seals are frequently made from either silicone or EPDM. While these are good materials, they both suffer shortcomings.
A standard EPDM will not deliver long term service in an autoclave
Steam service seals, gaskets, and o-rings have traditionally been made of EPDM. However, at temperatures exceeding 100C and in the presence of any oxygen, EPDM seals will fail (see graph at right). Auda and Hazleton of Exxon Chemicals Co., Elastomers Technology Division (an historic supplier of EPDM elastomer) published a study entitled "Ethylene Propylene Elastomer Technology for Improved High Temperature Serviceability" regarding the life expectancy of EPDM in hot applications. In dry heat temperatures exceeding 100C (212F), their study demonstrated a sudden and dramatic loss of integrity (retained tensile) and extensibility (retained elongation). The issue for an EP door seal is that one side of the seal will experience dry heat and will consequently deteriorate with each run cycle of the autoclave.
Silicone will not deliver long term service in steam
Silicone is a condensation polymer. It is polymerized using a process that also yields water as byproduct. The reaction follows Eq.1:
Eq.1: n(CH3)2 Si(OH)2 --> -[-(CH3)2 SiO-]-n + H2O (ref. "The Vanderbilt Rubber Handbook", 14th Ed.(2010)).
This means that when silicone is subject to steam (highly energized water), the polymerization process proceeds in reverse resulting in depolymerization of the silicone into its precursor silanol-stopped siloxane.
For maximum service life, use 7182DTM AFLAS Seals from Seals Eastern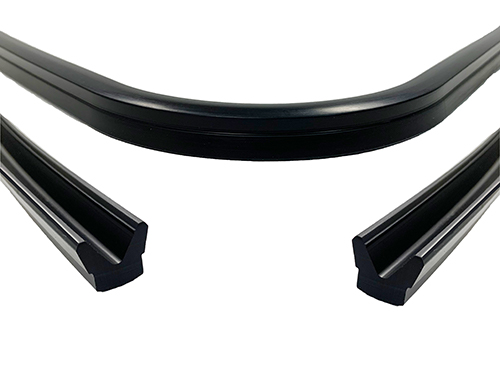 Do you want door seals that allow you to offer longer warranty periods? 7182D Alfas does not oxidize like a standard EPDM or depolymerize like a silicone after repeated exposure to steam. We offer two compounds that have proven to be best-in-class for autoclave door seals. We can manufacture any door gasket geometry to your exact specification.
| Compound | Duro | Description |
| --- | --- | --- |
| 7182D | 80 | Formulated AFLAS® for Steam and peroxides |
| 7182X | 80 | Formulated AFLAS® for Steam and peroxides. Exhibits Ultra-low compression set. |
If you want to maximize service life of your door seals, CONTACT US
Technical Papers of interest:
Premium Quality Seals...
For a Cleaner, Safer, More Reliable World.TM