Seal warranty issues involving Organic Acid Technology (OAT) coolants, highly stabilized engine lubricants, and other high pH engine fluids in hot engine applications are solved using 7182X.
A low warranty cost engine requires seals able to resist stress-relaxation.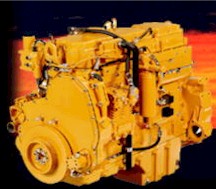 Seals Eastern supplies millions of low compression-set seals that ensure leak-free service in heavy-duty diesel engine applications. These seals have outstanding long-term performance in the presence of traditional coolants and the high pH Organic Acid Technology ("OAT") coolants. These seals also withstand modern engine oils that have been formulated to withstand higher operating temperatures.
Seals Easterns 7182™ series of formulated AFLAS seals have set industry standards for the highest level of performance in high pH coolant applications.
| | | |
| --- | --- | --- |
| Ref# | Duro | Description |
| FEPM | | |
| 7182X | 80 | Ultra-low compression set formulated AFLAS for use in aqueous and non-aqueous engine fluids. |
Technical Papers Available
Premium Quality Seals...
For a Cleaner, Safer, More Reliable World.TM